Product Description
Expandable container house/ container office
1. Front wall as big door
2. Can stay up by gas shut
3. EPS and light weight, steel fram
4. Can add one bathroom
Container shop
1. Wall panel is EPS sandwich panel, insulation and light weight
2. Steel frame is galvanized and 2-3mm thickness, very strong
3. One side door is EPS sandwich panel with aluminum alloy frame
4. Front wall as big door, can stay up by gas shut
Technical parameter of standard prefabricated house:
1. Wind resistance: Grade 11 (wind speed≤ 111.5km/h)
2. Earthquake resistance: Grade 7
3. Live load capacity of roofing: 0.5KN/m2
4. External and internal wall heat transmission coefficient: 0.35Kcal /m2hc
5. Second floor load capacity: 150kg/m2
6. Live load of corridor/ balcony/walkway is 2.0KN/m2
The whole LGS house system can be professional supplied under clients' design.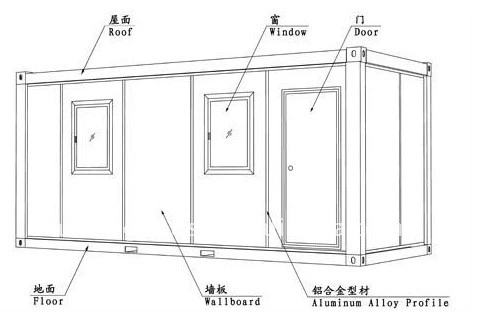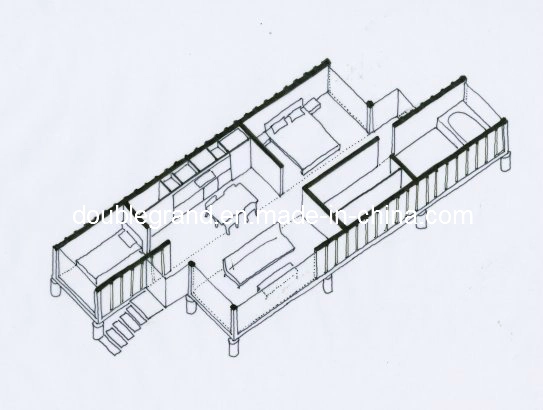 Detailed description of Economic movable modular container house(20ft or 40ft)
Dimension
Length
customer designed
Width
customer designed
Height
customer designed
Weather condition
Wind speed
m/s or km/h
Snow load
kg/m2
Earthquake
degree
Life span
25-50 years
House
Steel Frame
Q235, panited or HDG
Wall panel
EPS, Glass wool, Rockwool, PU, etc sandwich panel
Heat Insulation THK.:50-150mm; Steel sheet THK. :0.3-0.7mm
Roof panel
EPS, Glass wool, Rockwool, PU, etc sandwich panel
Heat Insulation THK.:50-150mm; Steel sheet THK. :0.3-0.7mm
Door
Sandwich door; PVC door
Window
PVC sliding window;Aluminum alloy sliding window
Surface
Panited surface
Antirust paint,total thickness: 100-120um; Warranty period: 18-20 years
Hot dip galvanized surface
65,86um; Warranty period: 45-50 years
Accessories
Hydroelectric system
Hydroelectric plan
Ventilation system
Providing design
Floor
PVC floor; Plywood floor
Heating system
Providing design
Delivery time
20-25days
Shipment
One 40HQ container for loading about 160-250m2